We are conducting researches on engineering education, especially information systems development and programming education from the viewpoint of educational environments, educational effects, and team composition.
Team Characteristics for Maximizing the Educational Effectiveness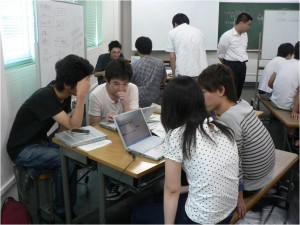 In practical lectures on software intensive business systems, we do not yet have an established method for determining what kind of personal characteristics and team compositions are most beneficial to obtaining the maximal educational effectiveness. Here, we propose a framework for analyzing the effects of personal characteristics of team members on educational effectiveness. We also apply the framework to an actual practical lecture. As a result, we find that it is better for a team to have members with a similar degree of tendency of conservative for acquiring more knowledge and skills and the team members have similar characteristics of progressive or conservative. It is expected that in similar practical lectures, we can also obtain the desired educational effectiveness if we can compose a team with the suitable characteristics as based on our findings.
Learning System for Computational Thinking
Computational thinking is one of the most important skills for using computers. Most existing learning environments for computational thinking work only on desktop or laptop computers although the popularity of smartphones has rapidly been growing. Moreover, Most existing programming languages are based on English. However, Japanese students tend to not like such languages due to English. We propose a gamified learning system using an appealing user interface with a novel icon-based non-verbal programming language. Our system works on smartphones with which many Japanese teenager students are more familiar than PCs. Our system uses an appealing interface and icons to motivate university students to learn programming through playing. We applied an appealing interface which a female student designs for other female students into our system, and then, conducted an experiment with 16 female students from Waseda University in Tokyo, Japan to evaluate our system. We confirmed our system encouraged and motivated the students to learn programming.
Kazunori Sakamoto, Koichi Takano, Hironori Washizaki, Yoshiaki Fukazawa, "Learning System for Computational Thinking using Appealing User Interface with Icon-Based Programming Language on Smartphones," Proceedings of the 21st International Conference on Computers in Education (ICCE 2013), pp.XX-YY, November 18-22, Grand Inna Bali Beach Hotel, Denpasar Bali, Indonesia, 2013. (short paper)(PDF)
まねっこダンス: 未学習者向けのプログラミング超入門Androidアプリ
Contest for Learning Programming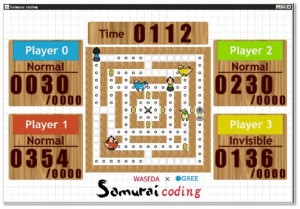 An artificial intelligence programming contest with game software is one of the most effective way of learning programming. Contestants can spontaneously learn programming to win in such contests. Although our previous work helps to hold artificial intelligence programming contests, its effectiveness is limited owing to an insufficient requirement analysis and uses of an unrefined design pattern. In this paper, we report on ACM JavaChallenge 2012, that is an artificial intelligence programming contest. we elicit requirements on a contest with a goal-oriented requirements analysis and extend the state design pattern using Scala to hold JavaChallenge 2012. We evaluate JavaChallenge 2012 very highly by questionnaire investigation.